'We are the lions' is an exciting new exhibition which tells the story of the Grunwick Strike, in which a group of workers, mainly Asian women, took a stand against poor working conditions and became pioneers of equality in the workplace. Based on exclusive and rarely seen archive material from a vast variety of sources, the exhibition forms part of the Grunwick 40 commemoration project which is supported by the Heritage Lottery Fund (HLF) and is in partnership with Brent Museum and Archives.
"We are the lions": an exhibition to commemorate the Grunwick strike 1976-1978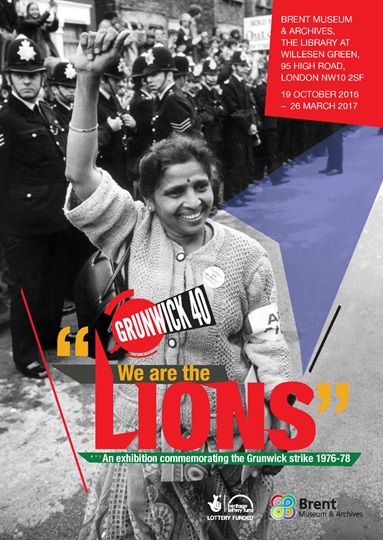 Visit the exhibition to discover a piece of Brent's radical history and the stories behind a workers' strike which began on Brent's Chapter Road, but had a national impact. Families can also explore the exhibition's interactive family corner, with dressing up clothes and colouring activities as well as the 'Great Grunwick' Quiz!
The exhibition features the original banner of the Grunwick strike committee, on loan from the People's History Museum and notable for its unusual design.
Acknowledgements
Grunwick 40 is an initiative of Brent Trades Council and Willesden Green Town Team. This exhibition has been produced in partnership with Brent Museum and Archives.
Grunwick 40 steering group- Sujata Aurora, Kierra Box, Chris Coates, Pete Firmin, Kathy Galashan, Tessa van Gelderen, Sophia McGibbon, Ruth Teddern.
Exhibition curated by Poulomi Desai- Panel design by Neelu Bhuman
Grunwick 40 would like to thank- Dr Sundari Anita, Chandrikaben Patel, Harmit Athwal, Jitu Patel, Brent Museum & Archives, Kanti Patel, Andrew Burgin, Urmilaben Patel, Sunil Desai, People's History Museum, Jack Dromey, MP Martin Rowson, Dudden Hill Centre, Evan Smith, Hazel Eracleous ,Socialist Worker, Anna Ferrie, Graham Taylor, Rory Gallagher, The Queensbury Pub, Bharat Gor, The Social, Alan Hardman, Chris Thomas, Sarah Howe, TUC Library, Collections Institute of Race Relations, Frances Webber, Imago Protect Design, Pete Webster, Dan Jones, Simon Underwood, Vipin Magdani, Usurp Art Kantaben, Mehta Newsline