Food safety laws require all businesses to take reasonable care to ensure food is safe at all stages of production and sale. The responsibility is on the Food Business Operator to ensure that the food premises meets the requirements set down in legislation. All food businesses are inspected to ensure that the food is safe to consume. The frequency of these inspections depends upon the potential risk posed by the type of business and its previous record.
What we check
Our inspections check:
that food is hygienically handled
that food is safe to eat
the potential risk for food poisoning or injury
food handlers are properly trained
the condition of equipment and the premises
that there are precautions to prevent pest infestation
If problems are identified during the inspection, inspectors can issue advice or take enforcement action to protect the public.
Food Hygiene Ratings
After each inspection the food business will receive one of the following hygiene standard ratings: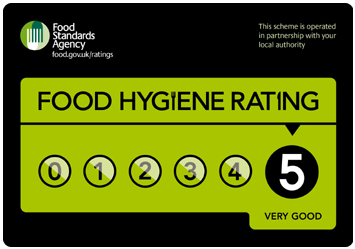 5 (very good)
4 (good)
3 (generally satisfactory)
2 (improvement necessary)
1 (major improvement necessary)
0 (urgent improvement necessary)
The findings of all inspections are published as a hygiene rating and then added to the findings from across the UK by the Food Standards Agency.
Challenging your rating
If you believe your food hygiene rating is unfair, you can:
Please return completed forms to: Regulatory Services - Health, Safety and Food Team, Brent Civic Centre, Engineers Way, Wembley. Middlesex. HA9 0FJ or ens.foodsafety@brent.gov.uk.
Food Hygiene Coaching Service
To assist businesses, The Food Safety Team has also introduced a Food Hygiene Coaching Service providing one-on-one advice and instruction tailored to the specific business needs. This will help businesses develop the skills and systems needed to raise standards.
Contact us
For details of the current fees for both the Re-Rating Visits and Coaching, to obtain further details or to make a request for either Service, please email ens.foodsafety@brent.gov.uk.