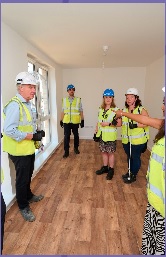 Knowles House and Anansi House will deliver 149 homes with work due to complete by 2022.
Of these, 57 homes will be independent living homes to specifically meet the needs of some of our most vulnerable residents. These will include access to communal facilities including a lounge and dining area and a landscaped front and back garden. Residents will also have access to mobility parking and care staff assistance.
This scheme will also add value to the local area through a number of community projects that the developer, Wates, provides through its residential offer.
These include:
opportunities in construction
donations of food and toys to local educational facilities
maintenance of the garden at the Community Centre
implementation of health and wellbeing activities that promote fitness and community togetherness.