Road transport is one of the biggest contributors to Brent's carbon emissions and creates problems with local air pollution. Electric charging infrastructure will support the vehicles of the future.
We are working to expand the network of charging points for electric vehicles across the borough.
Important information
There are a number of electric vehicle recharging point bays across the borough, marked with the following sign: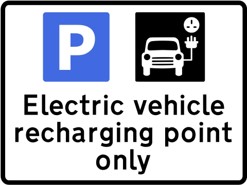 These bays are reserved for electric vehicles only at all times with a maximum stay of 4 hours. Vehicles must be plugged in and actively charging when using these bays.
View all publicly available electric vehicle charging points across the UK, including within the London Borough of Brent.
Reporting a problem with a charge point
If you discover a fault at a charge point in Brent, please contact the provider. The contact details will be on the charge point.